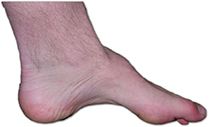 HIGH ARCHED FEET
A natural approach – no orthotics, no surgery, no medication​
What are High Arched Feet?
Highly arched feet are just as it says – they have a high medial and lateral longitudinal arch. The characteristics of a high arched foot may include some or all of the following:
Limited pronation or rolling in of the foot.
Rigid foot type – i.e lacks quality movement
Retracted toes
Increased tendency to sprain ankles
Reduced ankle dorsiflexion.
Increased tendencies for stress fractures of the tibia, fibula, and 5th metatarsal.
What causes High Arched Feet?
Sometimes there can be certain neurological conditions that can lead to high arched feet and therefore a thorough examination by Foot Posture Centre podiatrists will help assess this particular condition. With the reduction in quality range of movement with this foot type there is often a range of symptoms experienced by people including, numbness and tightness in the toes, feet and ankles. Often clients will mention that foot orthotics have been of limited or no help.
How to fix High Arched Feet naturally
As mentioned earlier, the lack movement in this foot type is often one of the main problems with the high arched foot. Therefore when Foot Posture Centre podiatrists use the All Natural System with this condition, and restore quality movement to the joints of the foot an ankle through foot mobilisation and corrective stretching techniques, this will result in a feeling of 'freedom' within the foot/ankle and an 'ease'' with walking.
Stretching the muscles under the arch and along the top of the foot is a great way to start resolving the symptoms associated with this condition. However if you would like to have your foot condition assessed more thoroughly and find out if the symptoms associated with your high arched feet can be corrected naturally without medication, orthotics or surgery, then call the Foot Posture Centre nearest you to arrange an appointment.
WARNING: This information is for educational purposes only and is not intended to replace professional podiatric advice. Treatment will vary between individuals depending on the diagnosis and presenting complaint. An accurate diagnosis can only be made following personal consultation with a Podiatrist.
TAKE YOUR FIRST STEP, CALL OR EMAIL US TODAY TO ARRANGE AN APPOINTMENT.
WE HAVE TWO OFFICES IN VICTORIA
Take your first step, call or email us today to arrange an appointment.
FOREST HILL
John Sfinas
99 Mahoneys Road,
Forest Hill Victoria, 3131
Telephone 03 9877 0056
IVANHOE
Claude Tobgui
217 Upper Heidelberg Road,
Ivanhoe Victoria, 3079
Telephone 03 9499 2006