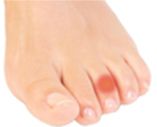 HAMMER TOES
A natural approach – no orthotics, no surgery, no medication​
What are Hammer Toes
"A hammer toe deformity is normally a flexion deformity of the proximal interphalangeal joint (PIPJ) with hyperextension of the distal interphalangeal joint. The deformity may be fixed or flexible and can result in painful calluses on top or at the tip of the toe. Hammer toes differ from claw toes in where they have the flexion deformity."
Hammer toes are caused by the following factors:
Congenital (from birth)
Poor foot posture
Excessive foot pronation
Improper footwear
Imbalance of the intrinsic muscles of the foot
Cavus foot types (high arched feet)
Neurological conditions where there is weakened muscle power in the shins and top of the foot
Can occur in conjunction with bunions or Hallux Valgus deformities
How to treat Hammer Toes
Conservative correction of hammer toes is difficult therefore the best non-surgical approach is to find the cause of the problem. The use of padding and strapping can help keep the toes realigned and protected from irritation caused by footwear. If the cause of the hammer toes is due to poor biomechanical functioning of the foot and leg, this will need to be corrected via natural corrective measures used by podiatrists at the Foot Posture Centre. This is essential to slow down, arrest or even reverse the condition. Gently mobilising the toes into extension is also helpful.
By having your hammer toes assessed by our corrective podiatrists, we will be able to tell you if your condition is likely to improve using natural corrective techniques, and how to avoid the condition deteriorating. Avoid corns, painful surgery and bulky foot orthotics that limit the range of shoes that you can wear and book into one of our centres for a consultation.
WARNING: This information is for educational purposes only and is not intended to replace professional podiatric advice. Treatment will vary between individuals depending on the diagnosis and presenting complaint. An accurate diagnosis can only be made following personal consultation with a Podiatrist.
TAKE YOUR FIRST STEP, CALL OR EMAIL US TODAY TO ARRANGE AN APPOINTMENT.
WE HAVE TWO OFFICES IN VICTORIA
Take your first step, call or email us today to arrange an appointment.
FOREST HILL
John Sfinas
99 Mahoneys Road,
Forest Hill Victoria, 3131
Telephone 03 9877 0056
IVANHOE
Claude Tobgui
217 Upper Heidelberg Road,
Ivanhoe Victoria, 3079
Telephone 03 9499 2006