Freedom from Orthotics – How to avoid wearing orthotics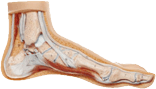 Freedom from Orthotics – Most foot pain sufferers would love this!!
Wouldn't you love to be able to have the freedom from orthotics and still be pain free? How about having the freedom to wear the shoes you want, without being restricted by orthotics. Well that is achievable, because in reality most people do not need to wear orthotics. There is a natural podiatric solution. If you want to avoid wearing foot orthotics then keep reading. You will discover how the majority of clients that visit Foot Posture Centre do not need orthotics and have the freedom to walk barefoot and wear a whole variety of shoes.
Freedom from orthotics – Freedom from foot pain
Orthotics are often not needed because your feet can improve naturally with foot mobilisation therapy (FMT) and corrective exercises. You may actually have joints in your foot and ankle that are misaligned. It is these misaligned joints that often lead to foot & leg pain. Those misaligned joints can be corrected using gentle foot mobilisation. When this happens, foot pain reduces. If you have been advised to wear orthotics because you are experiencing foot / leg symptoms take a closer look at some of our success stories.
In example below this 42 year old male had been suffering from chronic ankle pain for more than 6 months. Note in the 'before' pictures the excessive rolling in of the ankles and flat feet appearance. In the 'after' photographs there has been substantial improvement in foot and ankle alignment. This was achieved using Natural Corrective Podiatry techniques used at the Foot Posture Centre.
In the example below you will see how this 65 yr old person had rolled in ankles or flat feet and this was causing her bunion pain. She also needed to wear orthotics to help manage the pain.