Do I Need Orthotics? – A Melbourne Podiatrist's View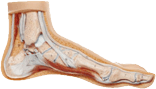 Most people do not need to wear orthotics!
The reason why you do not need orthotics is because most of your foot problems can be corrected naturally without orthotics. If you want to avoid wearing foot orthotics then keep reading. You will discover how the majority of clients that visit Foot Posture Centre do not need orthotics.
Why you do NOT need orthotics?
Orthotics are often not needed because your feet can improve naturally with foot mobilisation therapy (FMT) and corrective exercises. You may actually have joints in your foot and ankle that are misaligned. It is these misaligned joints that often lead to foot & leg pain. Those misaligned joints can be corrected using gentle foot mobilisation. When this happens, foot pain reduces. If you have been advised to wear orthotics because you are experiencing foot / leg symptoms take a closer look at some of our success stories.
In the example below you will see how this 65 yr old lady had rolled in ankles or flat feet and this was causing her bunion pain. She also needed to wear orthotics to help manage the pain.